THE GEM MUSEUM NEW PREMISE:
GRAND OPENING
Dear visitors, The Gem Museum has relocated to 26 Kandahar Street, level 2 Singapore 198888, right in the heart of Kampong Glam!
We have created a brand new museum experience for you!
Here's a whole load of reasons why you should visit us:
֎ New Exhibits & Jewellery Showcase
֎ Hands-on Experience on Gem Equipment
֎ Kids' Activities: Gem Mining & DIY Bracelet Making
֎ Gem Rock Challenge (for kids 12 years & under)
Venue: The Gem Museum @ 26 Kandahar Street Level 2, Singapore 198888
Opening Hours: Mon – Fri 12 pm to 5 pm
Admission: FREE
About The Gem Museum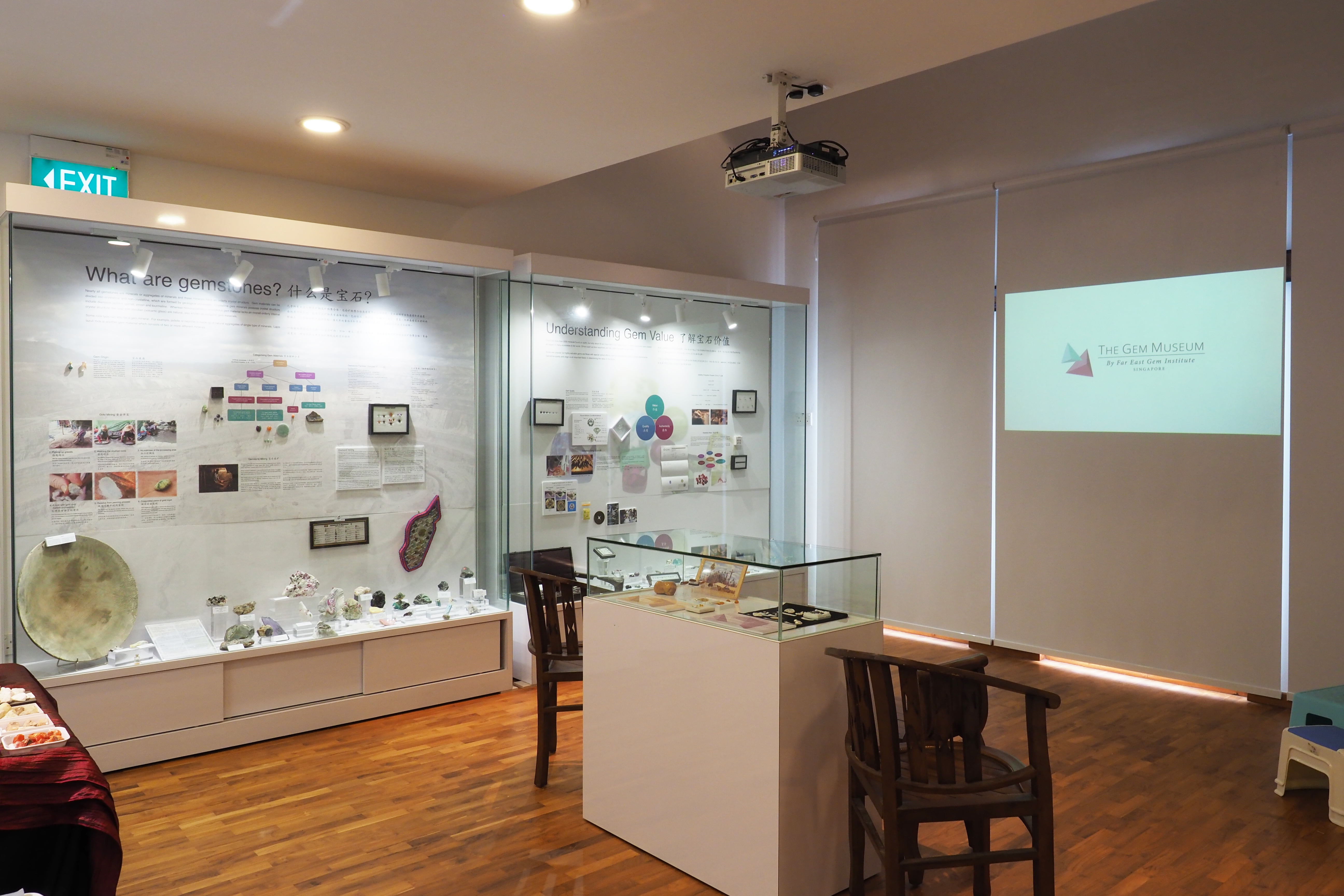 The Gem Museum is Singapore's first and most comprehensive private museum open to public. It features a wide range of gems (ruby, sapphire, spinel, emerald, tourmaline, alexandrite, Australian opal, aquamarine, red beryl, etc.) and minerals from around the world, including a range of coloured diamonds and a rock garden. We also have an informative exhibit on the 7 known crystal systems using natural gem minerals.
The Gem Museum, tells the story of how a gem goes from the mine to market in 4 different stages, from formation, to mining and extraction, to gem and diamond cutting (lapidary), lastly to the trade and industry.
The museum first opened its doors on 1 June 2015, as an initiative by Far East Gem Institute to bring knowledge and experience of gemmology to the public. Most of the gems and minerals on display belong to the private collection of Far East Gem Institute's founder, Mr. Tay Thye Sun.
The Gem Museum also holds regular talks, workshops and programs for children to promote the knowledge of gemology (a niche part of geology). You visit https://www.eventbrite.sg/o/the-gem-museum-9816122209 for more information on the upcoming talks and workshops available.
Through the Far East Gems Group founder Mr Tay Thye Sun who is an honorary recipient of the Fellowship of the Gemological Association of Great Britain, we believe in proper gemological education. A qualified gemologist would be close by in the gem museum if you would like to ask questions about gemstones or gemology.